Cold summer of 2003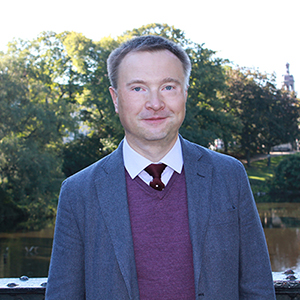 Георгий Литвинчук
22 03, 2004
Before the beginning of 2003 season all the climate equipment market players were unanimous in forecasting this market growth. Indeed, a number of objective reasons made them to expect good results. First of all, these were a record growth of Gross Domestic Product amounted to 7-8% in the first quarter of 2003 and the next fall in Air Conditioner Unit (ACU) prices. They also were taking into account the stable annual 15% growth of population's incomes in terms of dollars.
In spite of late spring ACU sales made within the first quarter of 2003 exceeded that ones made within the same period of the previous season by 40%. And there was a real deficit for climate equipment at the beginning of May, which turned out to be warm first time for the last three years. Nobody expected the coming summer to be so cold.
According to weather forecasters, summer of 2003 turned out to be the coldest for the last half century. Mean daily temperature of June appeared to be 3-5 ?C below normal. The weather of July was very unstable. There happened to be only two hot weeks in August. These were only eastern regions of Russia where weather conditions were favourable for ACU sales. Ural had warm summer first for the last three years. And the real heat set in Siberia and the Far East . As a result ACU markets of these regions increased by 30-60%. In the European part of Russia it was only north-west where ACU sales have grown. The European heat reached such cities as S-Petersburg and, especially, Kaliningrad . ACU sales in S-Petersburg were also favored by a great number of buildings, which construction was dated for a jubilee of the city. However, all these regions accounted for 16% of total ACU sales in 2002 could not improve the ACU market situation on the whole.
In total cold summer of 2003 resulted in 18% fall in the Russian ACU market sales. It is worth noting the great difference in various market segment trends. So, RAC (Room Air Conditioner) Splits and Window ACU sales decreased by 13% and 35% respectively. This can be explained by the fact that 2003 witnessed the worst fall in ACU sales in the south of Russia , which consumes the bulk of Window ACUs. Moreover, many people, who were planning to buy a Window ACU, could afford a Split due to significant fall in their prices. That is why Window ACUs sales are expected to continue falling (see Figure 1).
FIGURE 1. Source: Georgy Litvinchuk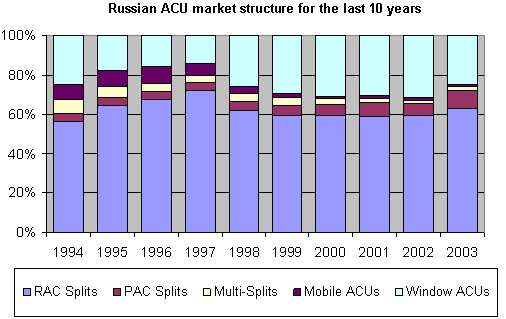 20-30% sales increase of semi-industrial and industrial equipment looks rather impressive against a background of a fall in household ACUs sales. PAC and VRF systems markets demonstrated a positive dynamics despite unfavorable weather conditions. Ventilation equipment was also in demand. This can be explained by the fact that semi-industrial and industrial air conditioning systems are mainly consumed by both corporate customers and owners of elite apartments. These clients' behavior depends rather on the state of economy than on the weather conditions. At the same time small businesses and private customers who buy mostly household ACUs are guided exclusively by the weather. In case summer is cold ACU sales to private customers may decrease by 30-50%. So it was the case in the Far East in 2002 and in the European part of Russia in 2003.
As for regions where private customer share is not above 10%, for example, in Yekaterinburg ACU market never shows negative trends. In case of a cold season it just makes no progress. And in case of warm season it does not grow by more than 30-35%. That is why it was so easy to predict the market trends on the whole. Share of ACUs sold to owners of standard apartments is tiny small while sales to corporate customers are rather stable and tend to grow in case there are no economic crises.
The situation has changed since 2001. An increased share of private customers estimated at 30-50% made the ACU market extremely instable. So everything depends on the weather now. In case of cold summer one may expect 20% fall in sales. And in case of hot weather – 50-60% sales growth. It is worth noting that the further increase in private customers' share will inevitably expand this gap in forecasts.
Another problem arisen in 2003 is a great number of remainders. In normal case they should not exceed 20-25% of total sales. In 2003 Splits and Window ACU remainders exceeded more than 40% and 70% of total sales respectively. It is worth noting that the remainders of such brands as AKAI, Hitachi , Sharp and MB originated as early as in 2002. The bulk of this equipment is still unsold.
The trading houses, especially those who do not have own retail networks, found themselves in the worst situation. Their remainders turned out to be 80% of total sales at the end of 2003 season. Selling mainly LG and Samsung equipment with narrow margin trading houses not only suffered direct losses from ACU sales but also failed to make profits because most of their funds are frozen. Even in case they reduce prices by 50% they won't be able to sell the remainders – the season is closed. Nevertheless, the ACU prices continue falling. Even in case the current wholesale prices are kept the trading houses will hardly be able to make any profits from selling the Korean equipment stayed in the storehouses for a year in 2004. This means that the next season will be as unprofitable as the previous one for the trading houses. And the more wholesale and retail prices are reduced the more losses they will suffer.
This situation will make the owners of wholesale networks think about expediency to do this business. In any case they won't purchase a great deal of equipment in case they are not sure in making high profits.
One should take into account the general fall in air conditioning business profitability. ACU retail prices are falling while customs expenses and spending on personnel are increasing. Many of the ACU market players closed this season at a loss. First of all these are trading houses. Second, these are specializing companies – installers working in Moscow and in the south of Russia where share of private customers is maximal. It is worth noting that most losses were suffered by the companies worked mainly with private customers at minimal margin.
In 2004 many companies may encounter a lack of circulating assets that inevitably will lead to repartition of the ACU market. In case summer of 2004 is cold many companies pursuing damping policy may stop their existence. On the one hand, this may result in some fall in ACU sales, on the other hand, this will improve the market situation on the whole in the long term.
What are the ACU market perspectives for the next years? Above all, it is a gradual change in the demand structure. First, a share of inexpensive ACUs has been increasing for the last few years. It is interesting to note that the hotter summer the more evident this tendency. If in 2000-2002 inexpensive ACUs were mostly presented by the Korean brands, in 2003 growth of this market segment share was mainly due to the Chinese equipment sales. It is worth noting that experts expect Samsung and LG to encounter the more severe competition from Chinese producers and OEM brands year by year.
FIGURE 2. Source: Georgy Litvinchuk
Second, a share of semi-industrial and industrial equipment is expected to grow rapidly on the corporate customers market. In 2003 already about 15% Splits consumed by corporate customers are Duct, Cassette, Floor-Ceiling and Floor-Standing type models.
Third, Window ACUs are expected to be gradually superseded by Korean and Chinese Splits of lower prices.
Making forecast for ACU market trends one should pay attention to the regional markets where summer of 2003 was cold. One can see the ACU market growth from 20% in the city of S-Petersburg to 30-60% in Ural. So, low sales can be contributed exclusively to unfavorable weather conditions and the positive ACU market trends can be expected in 2004.
In case summer of 2004 is normal the ACU sales will grow by 30-35%. And in case it is hot the market may grow up to 50-60%. It is interesting to note that a number of regions are going to have these market trends for 3-4 more years until private customers market is saturated primarily. Meanwhile, these are only the cities of Moscow and S-Petersburg, south region of Russia and the Far East where this market segment is developed properly.