In expectation of the worse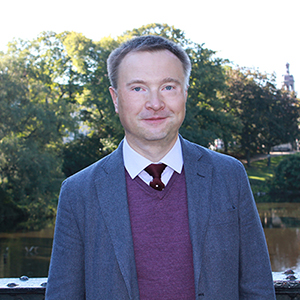 Георгий Литвинчук
23 01, 2005
It is difficult to make statements about what is likely to happen. Especially it relates to climate business. Everyone knows that unlike most other economy branches this business segment depends not only on objective factors but also on the weather that can not be forecasted for more than 10 days yet. Nevertheless, we will make an attempt to predict climate equipment market development in 2005.
First of all it is necessary to analyze the market situation of the recent two years. 2003 was the first year when the Russian A/C market witnessed a fall in its sales. This was mainly due to the unfavorable climatic conditions. A number of A/Cs sold to end consumer shrank by 16,5%. It is worth noting that Splits and monoblock (Window & Mobile) A/C sales decreased by 6,9% and 33,7% respectively. This was mainly due to a fall in standard apartment owner demand for A/Cs, for whom a purchase of climate equipment under low air temperatures was not actual. At the same time A/C sales to commercial sector and owners of elite housing increased.
2004 witnessed practically the same situation. But unlike 2003, there was not any fall in total A/C sales. A decreased share of A/C sales to owners of standard apartments was more than compensated by increased A/C consuming capacity of corporate customers and elite housing segments. The main trends of 2003-2004 are clearly presented by TABLE2.
TABLE 1
A/C market trends 2004 (pcs)
A/C Type
to 2003, %
to 2002, %
Wall Type Splits <5kW
8,1%
-6,4%
Wall Type Splits ≥5kW
21,7%
42,5%
Ductless PAC
57,6%
93,0%
Multi-Splits
21,1%
-0,9%
Total Splits
14,9%
7,0%
Window A/Cs
8,7%
-28,8%
Mobile A/Cs
33,3%
14,3%
Total
13,5%
-5,2%
Source: Litvinchuk Marketing
In spite of 13,5% growth gained in 2004 the A/C market did not reached the level of 2002.
An analysis of the A/C market trends by specific segments provides a comprehensive information on the market situation within the recent two years.
DIAGRAM 1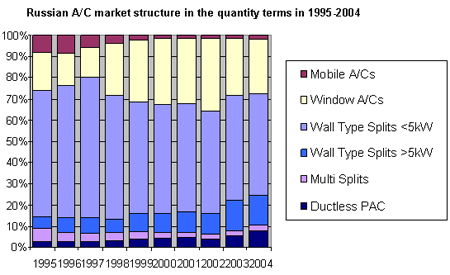 Source: Litvinchuk Marketing Co.
Household Splits and Window A/C segments, which are most popular among owners of standard apartments, never reached the level of 2002. At the same time sales of climate equipment that is mostly consumed by offices are stably increasing. So, Wall Type Splits of more than 5 kW capacity sales have increased more than by 40% and PAC sales have practically doubled!
That is why A/C market trends in the money terms differ from that in the quantity terms. A/C market has grown by 18% in the money terms for the recent two years in spite of general fall in release prices thanks to sales of high capacity Wall Type Splits and PAC.
2003-2004 were also remarkable for a great deal of remainders that stayed in warehouses of distributors as well as installers.
This fact had a dramatic impact on the market situation of 2003-2004 and will determine its further development for the following reason.
INEVITABLE THINNING IN DISTRIBUTORS RANKS
In 2000-2002 the Russian A/C market used to encounter a shortage in climate equipment, first of all, household Splits twice per year. It was usually in April-May when new supplies were delayed and previous season remainders were sold. The same situation was at the end of summer, when supplied equipment was sold and companies failed to make efficient additional supplies. Such a situation favored an appearance of new distributors. They could only have a sum of money enough to pay for a container with household Splits to start making wholesale supplies. It was a good chance to turn over their money minimum twice a year – in spring and in summer – by selling equipment practically from the wheels. Their overhead costs were minimal as they did not have to pay for a warehouse to store equipment, to invest much money in advertising and to take on many employees.
In 2003 this scheme of operation failed. It was only spring when the expected deficit took place. Further on the market turned out to be saturated with climate equipment. There was also no deficit in household Splits in spring and summer of 2004. It is not also expected in spring of 2005. As a result installers lost their interest to the companies that got used to work under a condition of regular shortage of equipment. A success in wholesales under the condition of saturated market can be achieved on the following cases:
A distributor keeps a full assortment of climate equipment including semi-industrial models. These are minimum 1,500 Splits for a brand with a developed product line.
A distributor stores a great deal of spare parts to be able to maintain efficient guarantee with customers and to carry after-sales service.
A distributor conducts a competent advertising campaign including that to support dealer sales. It is necessary to create brands meeting a ready market under the condition of saturated market.
A distributor regularly works with dealers to establish, support and develop a stable operative sale network oriented to specific brands.
All these factors require a great deal of circulating assets and increase personnel spending. One should also take into account the fact that a fall in retail and dealer prices provoked by availability of remainders in large quantities made distribution activities less profitable.
Nowadays, a wholesale company has to turn over its money at least twice a year to survive. Sales of a brand with a developed product line (which stock is recommended to be 1,500 pieces) should be at least 3,000 Splits or even 4,000 Splits with account of slower circulation of money invested in semi-industrial models.
In case a company sells a smaller number of equipment it should have less equipment in stock. In other words either a company works with a restricted assortment or has breaks in supplementing its stock. But in both cases such a company is of no interest to installers and has to work with retail sale manly.
Speaking of average-term perspective this fact will inevitably lead to a sharp reduction in number of distributors. These are only 10-15 big companies that will succeed in working through installer network under a condition of saturated market. Besides, the other 5-7 distributors of Splits who do not rely only on this equipment sales and 7-10 companies that could find their specific niches also have a chance to stay on the market.
Trading houses will also maintain their local share on the market (at the level of 15-20% of Splits market). Their market perspectives are not too optimistic because of the Russian climate that is unfavourable for climate equipment sales. The world experience shows that these are only the countries with stably hot climate where trading houses are successful in A/C sales. This can be explained by their client structure. The key clients of retail trading houses are owners of standard apartments who can easily postpone a purchase of climate equipment in case of cold summer. That is why this market dramatically fluctuates with the weather and trading houses meet difficulties in making adequate orders. In case of hot summer they may encounter a shortage in equipment. Otherwise, they run risks to close a cold season with a great deal of unsold units. In the latter case trading houses suffer great losses. Money invested in climate equipment remains frozen within more than six months – from September to April. This is a long-term period within which trading houses could have turned over their money 2-3 times by selling household appliances. That is why it is much more profitable for them to sell the remained climate equipment at a loss instead of keeping it for the next season. That was the case in 2003 and 2004.
These are two things trading houses can do to avoid this situation. First, they can restrict their supplies to the amount they sell under unfavorable weather conditions and buy additional equipment on the domestic market in case of heat.
Second, they can establish a specialized A/C company providing installation and after-sale maintenance under the guidance of managers specializing on climate equipment sales. This will allow trading houses to attract corporate customers and to avoid great losses in case of unfavorable weather conditions.
However, both cases will inevitably involve greater expenses with further increase in prices. As a result a difference in prices of trading houses and specialized companies will be eliminated and trading houses loose their key advantage.
UNWILLINGNESS MULTIPLIED BY INABILITY
Speaking of the market capacity one can expect it to grow by 20%-40% in 2005 in case nothing extraordinary happens in the weather.
The minimal expected growth is forecasted on the basis of the current market structure. A share of Splits sold to standard apartments was 13-15% in 2004. Even in case this segment halves because of cold weather the whole A/C market will grow. This is due to positive dynamics of corporate customers and elite housing segments which buying capacity depends mostly on political stability and the actual state of economy rather than on the weather. So, these market segments will ensure 20% A/C market growth even in case summer turns out to be cold.
The maximum market growth expected in case of hot summer is restricted by the following two factors.
A lack of equipment available. In view of the previous two cold seasons distributors are now very cautious in making orders for 2005. Even the leading distributors did not take the risk of increasing the purchases by more than 20-25% against 2004. As to small-size companies and trading houses they were even more conservative in making orders. As a result A/C supply in 2005 is expected to be at the level of 2004. In case the coming season is favourable and demand for household Splits increases at the peak of season – in June – July distributors may encounter a keen deficit in equipment of most popular brands. Even a great deal of remainders from the previous season will be unable to cover the deficit.
A lack of installers. Unfavorable weather conditions of the recent two years, when many installers were out of work, forced a number of them to change their activity sphere. According to various estimations the total number of installers has decreased by 10-20% for the recent two years. It is worth reminding that there were problems with satisfying a great demand for A/Cs provoked by owners of standard apartments in 2002 because of a keen deficit in installers. Customers had to wait for two-three weeks before a Split System was installed at the peak of season. Many customers even had to postpone a purchase of Split for the next season or bought mono-blocks that do not require special installation services. Thus, Splits sales to owners of standard apartments in 2005 will hardly exceed that of 2002 unless the heat lasts more than 1,5 months. Knowing to what extent sales to corporate customers and elite housing segments may increase one can expect Splits market to grow by 40% (like it was in Ural in 2004) to the maximum. But it is the most optimistic forecast.
SURVIVING BY DARWIN THEORY
A number of brands presented on the market are expected to be reduced in the near future. The market positions will be only kept by the strongest brand. This can be explained by the following factors.
Small- and mid-size distributors will start reducing a number of supplied equipment because they do not have enough circulating assets to keep a full assortment of many brands in stock. It is much more profitable for them to supply a full assortment of one brand only than to keep an incomplete assortment of 2-3 brands, none of which is of any interest to serious dealers.
These are only big distributors who will continue dealing with several brands at the same time in the near future. But they are also expected to reduce a number of brands kept in stock maximum to 2-3 ones. (Brands that fill up the gaps in A/C assortment such as Mobile A/Cs or high capacity Duct Type A/Cs are not taken into account.) In case a small-size company needs to have an assortment of 2-3 brands it is much more profitable for it to supply one brand only and to buy additional equipment from big distributors as VIP dealers. Thus, the company can minimize its storage expenses and reduce an amount of circulating assets needed for maintaining a storehouse and purchasing equipment. Under current circumstances it is much more profitable to use these circulating assets as a credit against goods.