World air conditioner UNIT (ACU) market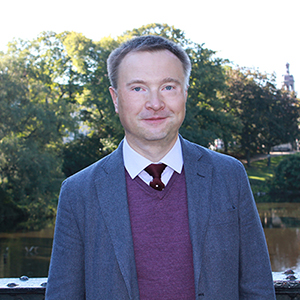 Георгий Литвинчук
10 06, 2003
World Splits, Window and Mobile ACU market has grown more than by 67% and amounted to 43,5 mln units in 2001. As shown in the picture the key consumer of climate equipment is Pacific region where 73% sales account for Japan, USA and China.
Japanese market stabilized at 7-8 mln ACUs per year long ago. After being at the high in 2000 USA market has decreased by 1,5 mln. pcs from the beginning of economic recession. And experts do not expect its rapid development within the next 1-2 years.
China is in a vastly different situation. Her market has increased by 12 mln. for 10 years. The nation managed to establish a powerful industry. Early 90-s these were only two domestic manufacturers – Chunlan and Huabao. In 2001 already Chinese works produced 17 mln ACUs. And such companies as Midea, Haier and Gree gained the world popularity. Nowadays each of them makes more than 2 mln ACUs per year. Among the prominent ACU makers there are Kelon, Chunlan, AUX, Hisense, Huabao, Hualing, Shangling, Changhong and Toyo.
In spite of the fact that practically every big foreign ACU manufacturer runs its works in China, Chinese companies take 80% of the domestic ACU market. Moreover, from the mid 90-s they started exporting their equipment to foreign markets: Europe, South-Eastern Asia and Latin America. In 1998 already China exported more than 1 mln ACUs. According to preliminarily estimations by 2001 Chinese export is expected to exceed 5 mln ACUs 80% of which will be Splits.
If late 90-s witnessed an explosion in South Korea's ACU production and Korean brands expansion to the biggest world markets, the third millennium starts with great popularity of Chinese equipment. For example, it takes about 30% of the Italian market, which is the biggest ACU consumer in Europe.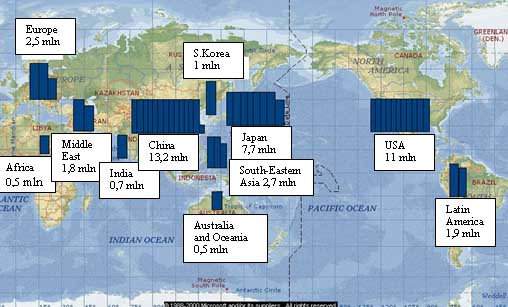 RUSSIAN MARKET
In case one analyses ACU market of 2001 only from the point of sales, there may be an impression that this season was rather successful. Of course! ACU markets of all regions except Ural rose by 20-30% and even doubled on the Black Sea coast of Caucasia. Moreover, it was the first year since 1997 when even stable ACU markets of Moscow and S-Petersburg had a significantly increased demand. However, the closer review of the market situation makes it highly ambiguous.
The following Figure 1 presenting ACU supplies by months compiled on the basis of the customs information is the best illustration of what was going on the market in realty.
FIGURE 1 "THE CURVED CROWN OF 2001"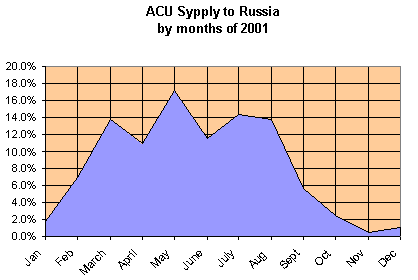 The falls and peaks of Figure 1 can be explained by the following reasons. At the beginning of 2001 ACU distributors were encouraged to go ahead of supply schedule by more than 37% ACU sales growth within the previous season, rapid economic development, super high world oil prices and warm days in March.
Nobody expected the State Customs Committee to introduce new custom duties at that moment. So the profitability of distributors was significantly reduced especially those working with low price equipment. As a result, many companies stopped supplying equipment hoping for situation to resume its normal course. This fact explains the first April fall on Figure 1.
First warm days of May again encouraged the ACU market participants to increase their supplies. However, their enthusiasm was reduced by low air temperatures of June, which appeared to be the coldest one for the last 10 years in the most part of Russia. According to managers of big companies by 1 July ACU sales were estimated at 80% of the previous season sales. Being worried by failure of the purchasing plans ACU manufacturers started redirecting equipment intended for Russia to the stocks. All these reasons explain the second fall of Figure 1 registered on 1 July.
The middle of summer is an important psychological border in customers' consciousness. Those ones who managed to live till the middle of July without ACU are usually ready to put up with the heat for other two-three weeks. In most cases these customers tend to postpone the purchasing climate equipment for the next season. This means that the situation could be saved only by unusual long-term heat. So it was the case. It is interesting to look at the situation in August. As a rule this month supplies are a half the number of supplies made in July. In 2001 they turned out to be a bit less than that ones made in July. Nevertheless, there was a lack of a number of brands within the first two weeks of August. Many distributors did not expect the heat to last for so long. But it lasted for 5-7 weeks in most regions. It was Ural only, where the whole summer was cold.
At the end of September it became clear that 2001 was a record one by ACU sales. It was the first year when ACU sales in Russia exceeded 300,000 pieces. As a result Russia reached the third place by ACU sales in Europe. In spite of a lack of many other nations' totals for the moment one can say for sure that Russia takes 11-12% of the European market now. Moreover, our country has been leaving behind its European neighbors by ACU sales growth rates for the last two years. In case these trends are kept Russia would sell more than 500,000 ACUs per year and join the list of the biggest world ACU consumers in a couple of years already.
However, many ACU producers consider Russia to be a key ACU consumer in Europe by now. If every ACU producer had had enough information on the Russian market they would have fought for Russian customers more fiercely.
It is important to note that along with sales growth there are also structural changes on the Russian market. Window ACU share in total sales has stabilized at 30% with their final localization in the south region, which accounted for 75% sales of this type equipment in 2001.
Another interesting tendency is a rapid increase in demand for Packaged Type Air Conditioners (PAC) – Duct, Cassette, Floor-Ceiling Type Splits. Sales of this type equipment grow ahead of the whole market. Even brands traditionally oriented to Room Air Conditioner sales started promoting more serious equipment this season. So, share of PAC in LG Splits sales exceeded 5%.
Speaking on the whole market, it was the first year when share of PAC exceeded 10% in total Splits sales.
As to Multi Split Systems, sales of this equipment are slower but they have a very interesting tendency. If early and mid-90s these were Multi Splits with two indoor units, which price was a bit lower that one of Mono Splits combination of analogue power, now these are Multi Splits with many indoor units that enjoy the most popularity. In most cases these are Inverters enabling its users to connect an outdoor unit with any combination of 3-7 indoor units. That is why this market segment still has a sizeable share in total sales in terms of money.
CHINESE BRANDS INTERVENTION INTO RUSSIAN MARKET
It is interesting to look at various brands' shares on the Russian ACU market. There is a great difference in quantity and price shares of various brands. This can be explained not so much by the difference in prices for models of analogue power as by various sales structure. So LG and Samsung are undoubted leaders by ACU sales volume. However, their sales take the second and fourth position respectively by sales value. The reason is that the bulk of their sales are inexpensive Window ACU.
At the same time brands selling mostly PAC and VRF Type equipment have big shares in terms of money. The following figures 2 and 3 show various brands' shares in terms of quantity and money respectively.
And, finally, 2001 witnessed another tendency of paramount importance. If the previous season share of Chinese equipment in total Splits sales was only 5%, this season it appered to be only behind Japanese and Korean equipment by popularity. It is worth specifying that Chinese ACUs include not only Midea and Haier equipment made in China, but also equipment made in Russia from Chinese parts. These are Elemash, Rolsen, Evgo and such OEM brands as Ariston and Golf. This year other two Chinese brands – Gree and Toyo, as well as a new domestic brand – Elemash made from Chunlan's parts, which were used for manufacture of Elemash equipment till 2000, would join the list of Chinese brands. It is interesting to note that Chinese ACUs are equipped with compressors made in Japan.
These are firstly Korean brands who would suffer from appearance of Chinese brands offering acceptable quality at low prices. They have never been in a situation when someone offers lower prices before.
After a time it would be clear what LG and Samsung are going to do to cope with the situation. However, some tendencies can be seen right now. On the one hand, there is a division of distribution channels: Chinese brands go through specialized companies while Korean brands are sold more actively through stores, on the other hand, LG and Samsung take active steps to promote PAC equipment relying exactly on professional companies. That is why one can say for sure that the Russian market is on the threshold of crucial changes expected in the near future.
FIGURE 2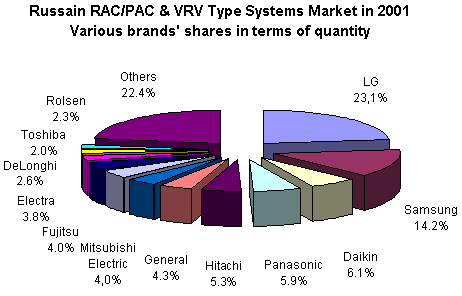 FIGURE 3