Slavic bazar heading toward civilized market. Russia. Ukraine. Byelorussia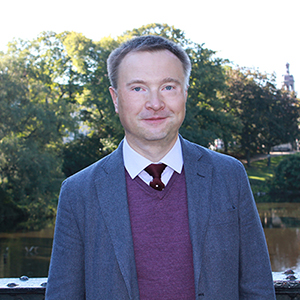 Георгий Литвинчук
11 02, 2003
Generally, the former USSR republics had great interest in information about each other business development and dissolution of the USSR even stimulated this interest at present. Climatic equipment manufacturers and sellers are no exception here – neighbour countries' markets are of great interest for them. At the first glance there are a lot of differences, however, at close examination of situation we can recognize very interesting parallels.
A review of air conditioner markets of the Slavic republics is given below as an illustration: Russia, Ukraine and Byelorussia.
Climatic Map of the European Part of CIS
(with indication of mean daily isotherms of July known as "A" parameter of SNIP*)
*Russian National Standards System (SNIP)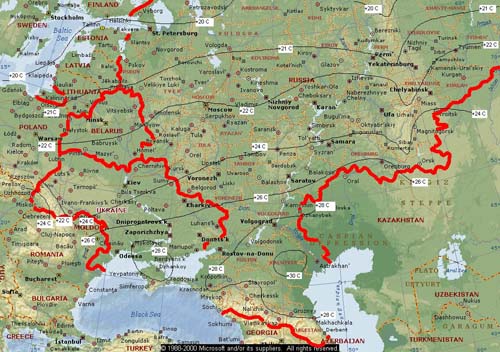 Source: Litvinchuk Marketing
Before we compare markets by any parameters it is necessary to review the climatic conditions of their development. It is clear that air conditioner sales depend much more on climatic conditions than on the state of economy. For example, Portugal, a poor country with hot climate, consumes a great deal more climate equipment per capita than Germany, England or France.
The same tendency can be seen when we compare specific regions of Russia. The cities of Yekaterinburg, Tumen' and Kazan' with favourable economic situation are far behind such poor but hot cities as Rostov and Krasnodar by air conditioner consumption per capita.
It is interesting to note that a great advance in climate equipment consumption is noticed to the south of +24°С mean daily isotherm of July known as "A" parameter of SNIP. It is quite logically since according to SNIP the border of comfort temperature under the condition of normal humidity is +23-25°С.
Figure 1 demonstrates clearly that most part of Russia's population (about 100 mln. people) lives in a zone between +20-24°С isotherms that is normally called a middle belt. Byelorussia's population lives in the same climatic conditions.
This climate is favourable for heavy demand for climate equipment on the whole. In the middle belt the bulk of climate equipment is consumed by big industrial cities, where gas-polluted air and a lack of green plantations increase a sensation of heat. Corporate customers are the key consumers of climate equipment. However, private customers demand was also initiated by the abnormal high summer temperatures of 1998-2002. As a result, about 20-25% elite and 3-5% standard apartments built in the middle belt are air-conditioned already. Nowadays, private customers market is actively developing in Ural and Siberia where summer happened to be abnormal warm three years in a raw.
FIGURE 1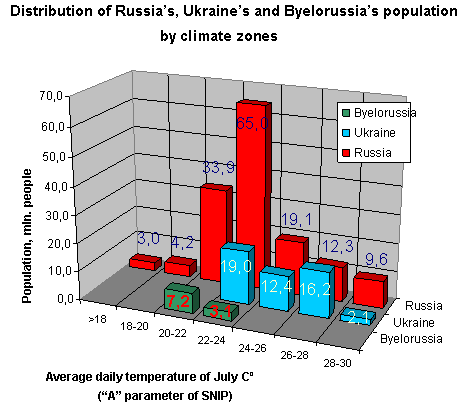 Source: Litvinchuk Marketing
Ukraine, which location is closer to the south as compared to Russia, turned out to be in a slightly different situation. 2/3 of her population (31 mln. people) lives below +24°С isotherm, which is of critical importance. At the same time in Russia 41 mln. people live to the south of +24°С isotherm (See Figure 1). In other words these figures are quite comparable in absolute expression.
What can we see below +24°С isotherm? First of all, we can see that private customer demand is stable. Practically every elite apartment is air-conditioned here. As to standard apartment market, this market segment growth is restricted mainly by low income of its representatives. However, no one has any doubts that an air conditioner is a thing of the first need. Second, there is a stable demand for window monoblocks, which people buy in case of urgent need of air-conditioned environment and they do not have enough money for buying Splits.
So, one can see a gradual growth of private customer market from the middle belt to the south. And the key feature of the south market located to the south of +26 С0 isotherm is private customer domination. In other words, the bulk of climate equipment goes to residential sector while practically every private company, store, café and restaurant has been already air-conditioned.
FIGURE 2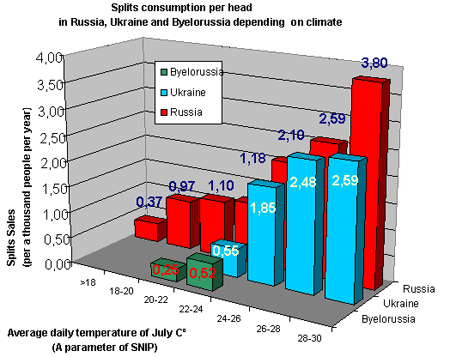 Source: Litvinchuk Marketing
Figure 2 clearly shows Splits consumption per capita depending on climatic belts for three Slavic republics. It is worth mentioning that this figure was compiled without taking into account air conditioner sales in the capitals. The cities of Moscow, S-Petersbourg, Kiev and partly Minsk should be reviewed separately in view of their specific climatic conditions that fall beyond the trends of their climatic belts. This can be clearly seen in winter. Big megalopolises' (cities with population from 3 mln. people) snow starts thawing two weeks earlier as compared to their suburbs. As well as in summer big megalopolises' air temperatures are 2-3°C higher against their suburbs. A weather station installed at the Balchug hotel's roof in the center of Moscow regularly registers this difference in temperature. This means that climate conditions of Moscow's center resemble that ones of the cities of Saratov or Khar'kov. One should also note high income level of the capitals. For all these reasons big megalopolises' air conditioner consumption has its specific pattern and requires special consideration.
Again it should be noted a high informative feature of Figure 2. One can clearly see the growth of demand for air conditioners as moving closer to the south. It is interesting to highlight the fact that a great advance in air conditioner consumption per head is to the south of +24°С isotherm, which fundamental importance was described above. If one compares climate equipment sales per head in the middle belt, one can clearly see that Russia consumes air conditioners 2-4 times as many as Ukraine or Byelorussia. It is quite logically. Both western Ukraine, which is the poorest part of the country, and Byelorussia have practically same standards of living while there are more well-to-do regions in the middle belt of Russia. If one compares Ukraine and Byelorussia with the regions of central Russia the figures will be practically identical.
But there is a different situation to the south of +24°С isotherm. Ukraine's air consumption per head practically coincides with that one of Russia here. It is logically as well. South of Russia is not as well-to-do as south of Ukraine where the bulk of export proceeds is provided by metallurgical works. That is why the living standards of the cities of Odessa, Dnepropetrovsk, Khar'kov, Donetsk and Zaporozh'e are about at the level of such cities as Rostov, Krasnodar, Volgograd and Stavropol'.
As to Window and mobile air conditioner market, there is a completely different situation here. The point is that these are countrymen who consume most Window air conditioners in the south of Russia while Ukrainian countrymen can not afford to buy an air conditioner even after selling their crops.
FIGURE 3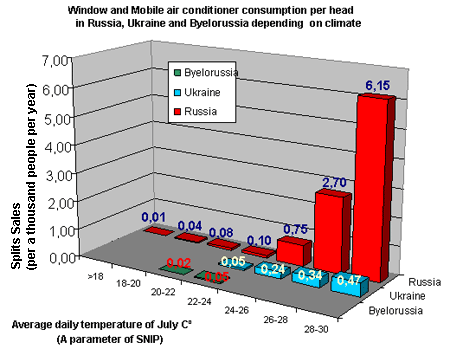 Source: Litvinchuk Marketing
That's what explains an absolutely analogue situation on Window and Mobile air conditioner market to that one on Splits market to the north of +24°С isotherm and sharp distinction in these markets' situations to the south of +24°С.
Climate has a critical impact on the market price structure. The lower air temperatures of a region the bigger share of expensive equipment and the higher general level of retail prices. It is quite logically since in regions with cold climate, where an air conditioner is not a thing of the first need, these are only the biggest and richest business-structures as well as residents with highest incomes who buy climate equipment. These customers tend to buy the most qualitative and, therefore, expensive equipment.
Of course, economic environment also influences the market structure, but as studies show climate influence is more notable. This fact is visually demonstrated by Figure 4, which presents the manufacturer nations' shares on the markets of Russia, Ukraine and Byelorussia.
In spite of the poorer financial position as compared to her neighbours Byelorussia has the largest share of expensive Japanese equipment. It is a bit less 60%. Though, its location is closer to the north. As for Ukraine, which location is closer to the south, share of Japanese equipment is about 25% while a total share of low price Chinese and Korean equipment is 70%. It is quite logically that Russia is in the middle here. If one divides the nation by the mentioned above +24°С isotherm, one can see her northern market structure to resemble the Byelorussian market and her southern part close to the Ukrainian market structure.
FIGURE 4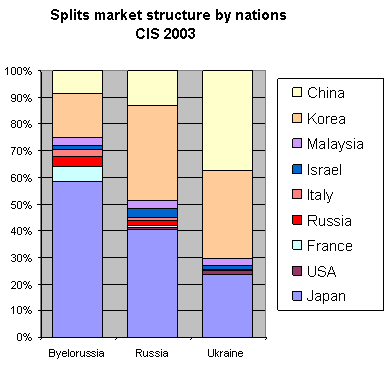 Source: Litvinchuk Marketing
Climate also has a critical importance when one compares the market structure by equipment types. The closer to the north the larger share of heavy equipment: semi-industrial Splits, ventilation equipment and central conditioning systems. And, on the contrary, the closer to the south the larger share of low power Splits and Window air conditioners. This specific feature of the south can be easily explained. Developing of private customer market inevitably moves the demand structure to house-hold air conditioning system market segment.
As to corporate customer market its structure is rather similar both in the south and in the north. Any distinctions can be mostly explained by the state of economy in this or that region.
Prepared by Georgy Litvinchuk on the basis of the detailed studies of Russian, Ukrainian and Byelorussian markets conducted by the Litvinchuk Marketing Co.